Learning and Assessment
With ImageSim Training, medical trainees will be able to practice interpreting up to several hundred examples of image-based cases. This learning system emphasizes the learning paradigms of deliberate practice and assessment for learning. As such, after a trainee submits their diagnostic impression, the trainee receives feedback with every case and learns more effectively from every case they do. These educational strategies have also been shown to improve learning retention.
Visual and Text Feedback After Every Case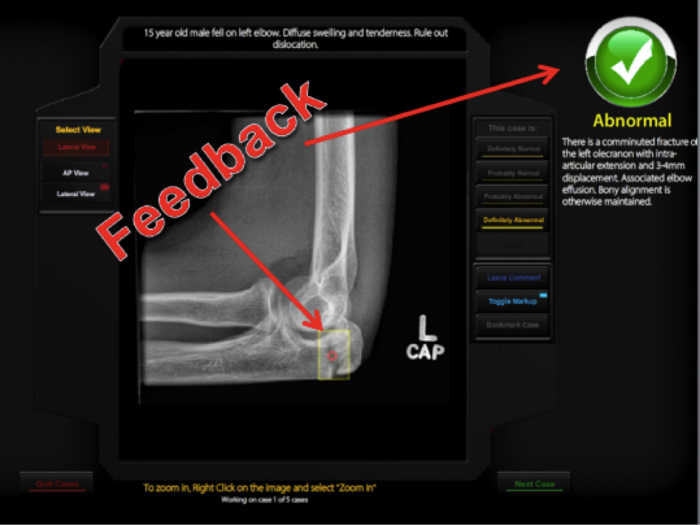 The trainee gets reports on the number of modules started, number of cases completed, and performance measured as accuracy, sensitivity and specificity. In line with current resident evaluation trends, ImageSim learning system implements a performance-based, not time-based, competency threshold.  To be considered "practice-ready" competent, a trainee must achieve scores of at least 80% in accuracy, specificity and sensitivity.
Time versus Performance Based Competency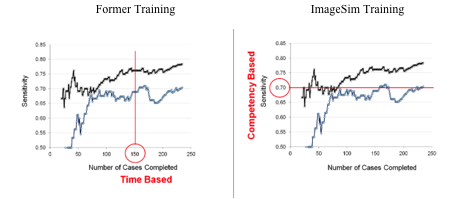 Learning Objectives
To acquire expertise that may take the trainee years to establish from clinical practice alone
Increase trainee accuracy in interpreting visually diagnosed tests*
Demonstrate better patient outcomes through improved physician skill 
*Our results to date show an average increase in accuracy of 15% after about 100 cases.
A Resident's Learning Curve

---
COURSES
We are currently trusted by over 20 post-graduate training programs internationally. See course demos here.
Pediatric Musculoskeletal Radiographs
Includes 7 modules, 200-400 cases per module, 2,100 total cases:
Skull
Clavicle/Shoulder/Humerus
Elbow
Forearm/Hand
Pelvis/Femur
Knee/Tibia-fibula
Ankle/Foot
Pediatric Point of Care Ultrasound
Includes 4 modules, 100 video/still images per module, 400 total cases:
Soft issue
Cardiac
Lung
E-FAST
Pediatric Chest Radiographs
Includes 1 module, 434 total cases:
Infection
Cardiac disease
Trauma
Foreign bodies
Child abuse
Chest mass
Diaphragmatic hernia
Normal/normal variants
Courses Under Development
Pediatric Electrocardiograms – 250 cases
Female Prepubertal Genital Examination – 150 colposcopic image cases
---
Program Directors
Join the growing number of programs that are using this learning system for their residents and fellows. Each program director gets a customized link that provides the status of each of their trainees:
Number of modules started
Number of cases completed
Performance metrics
---
Access and Payment
Access to all cases is for two years and trainees are permitted access to cases more than once to achieve competency.
Contact us to discuss trainee pricing and group rates for your program.